Digital strategies for small business owners post coronavirus. The coronavirus crisis pushed many small businesses on the verge of existence. The global lockdown forced non-essential small businesses to shut doors and furlough or lay off employees. Even essential businesses saw sharp declines in revenue.
The main challenge for business owners was how to pay salaries rent with limited visibility in the future. Will customers ever come back?
Today, the existential question for all small business owners is how do adopt in the aftermath of the coronavirus? Rightfully or not, the lockdown favored mega-cap companies with high cash reserves, multiple distribution channels, and diversified revenue streams. Furthermore, the lockdown sped up the digitalization of many aspects of doing business. Almost overnight, telemedicine became a norm. Video conferencing is a must. Digital selling channels grew exponentially in a matter of weeks. What was a trend before the coronavirus pandemic now is an industry-standard.
Until we get an effective vaccine, many social distancing policies will remain in place. Looking forward to the future, the majority of these measures will become a prerequisite to prevent or slow down future pandemics.
If you are a business owner trying to boost your established business or starting a brand new venture, this article is for you. Let's break it down a few ideas on how to succeed in the post coronavirus world.
Build a digital channel
Having a digital channel is no longer wishful thinking. It's a requirement. Even if you cannot sell your products and services directly online, you can still build a digital channel. You should use it to stay in touch with your customers, post updates about your business, and provide helpful tips and ideas. Your business is unique. Your customers are unique. You need to know who your customers are. How do they find about your business? How can you reach out to them virtually?
Google For Business
Google Search is a utility. It is the first place where people will go to look for your products and services. To give you some perspective, Google has 92.42% of the search engine market share worldwide. It is estimated that Google processes approximately 70,000 search queries every second, translating to 5.8 billion searches per day and nearly 2 trillion global searches per year. Without a direct referral, To compete on Google Search, you need Google My Business Page.
This is how our firm page looks like on Google My Business.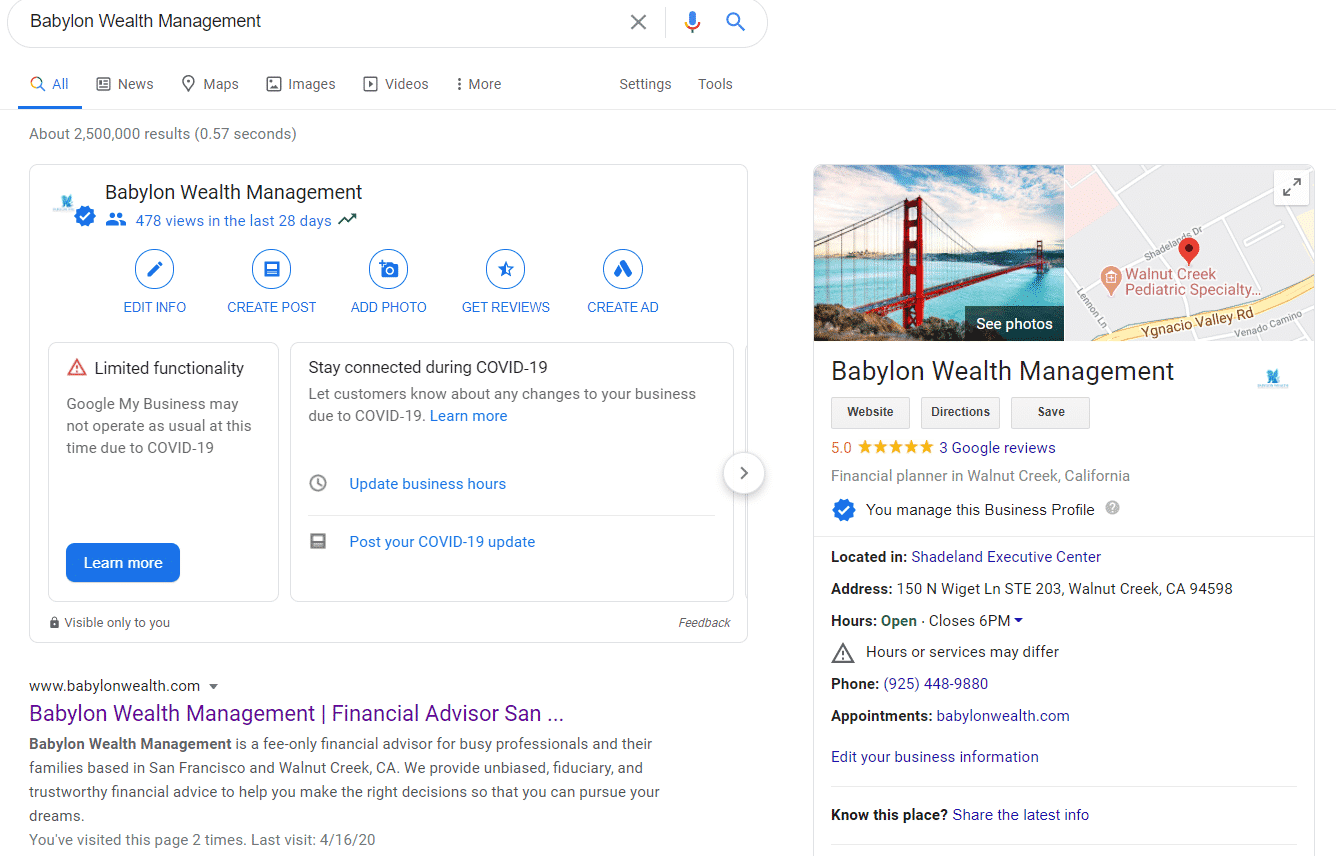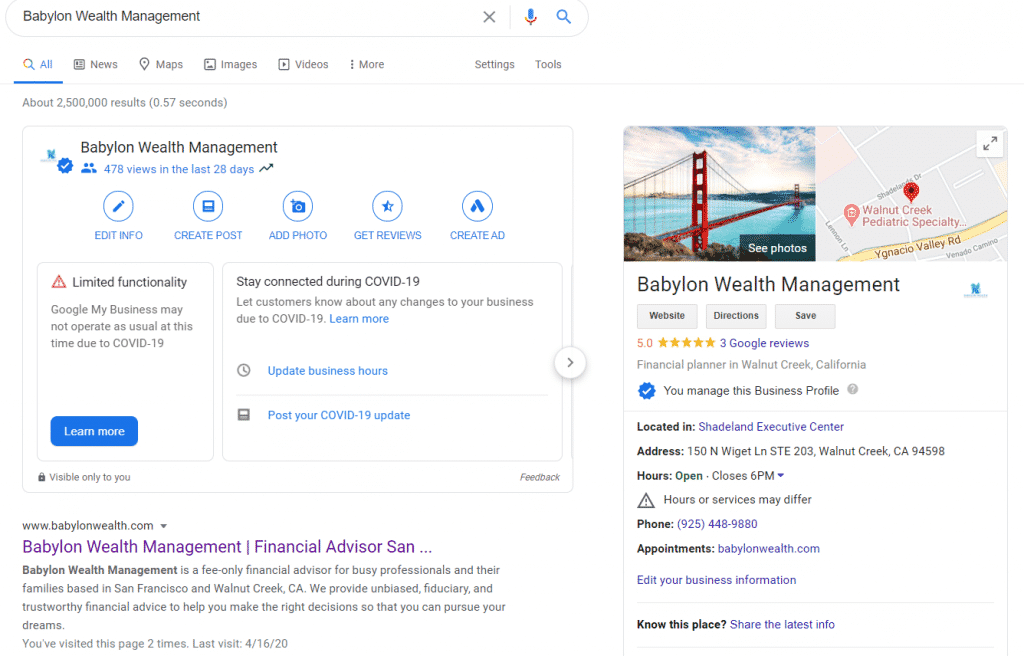 Your Website is your showroom
I cannot emphasize enough how important for you is to have a website where you can showcase your products and service. You will be surprised how many businesses still operate in the "digital darkness" with mediocre websites or no websites at all. Your website is the place where your prospects and future customers will learn about your business. Remember, this is the place where people go to find out about you. Your website must be memorable, informative, and easy to navigate.
Sell your products and services online
You can use your website to sell your products directly to your customers. The advantage is that you can cut the middlemen. By selling directly to your customers, you might be able to earn higher profit margins. The challenge will be to generate enough visitor traffic. There are 200 million active websites globally. Driving traffic to your website can be a big hurdle, depending on your industry and competitors. It is costly and time-consuming.
Alternatively, you can use third-party platforms such as Amazon, Wal Mart, Esty, Google Shopping, or Facebook Marketplace. Obviously, Amazon is the most dominant digital seller, followed by everyone else. Even though these marketplaces can cut in your profit margins, you will have access to a bigger audience. You can achieve economies of scale and improve your logistics.
Nowadays, consumers are overloaded with information and digital noise. To be successful, you need to find your niche and the best way to get in front of your customers.
Search Engine Optimization (SEO)
If you want to drive business to your website organically, you must invest time and money in Search Engine Optimization (SEO). Moz is a good starting point to learn more about SEO. According to Moz, SEO is "the practice of increasing both the quality and quantity of website traffic, as well as exposure to your brand, through non-paid (also known as "organic") search engine results" ….. "It's about understanding what people are searching for online, the answers they are seeking, the words they're using, and the type of content they wish to consume. Knowing the answers to these questions will allow you to connect to the people who are searching online for the solutions you offer".
Market your business on social media
Everybody is on social media these days. Facebook, LinkedIn, Twitter, Snap Chat, Pinterest, Tik Tok, you name it. I am sure I am forgetting something. Is your business on social media? Can customers discover you on Facebook? Did you know that Facebook is the second largest digital advertising platform? Google is number one. I am not promoting either one of them. However, if you are looking for targeted advertising by interest, zip code, etc, Google and Facebook should be on your radar.
Here is our Facebook page:
Have a blog or a video channel
If you are reading this article, it means you are reading my blog. I am a financial advisor, but I also blog. My blog is a way to communicate with my clients and prospects. Apart from my time, it costs me nothing. Having a blog or a video channel is another way to showcase your business. It gives your prospects a chance to learn about you firsthand. It takes a bit of courage to write a blog or do a video. You may not think that you have anything to say. But you are wrong. You are an expert in your field. People will want to know your opinion and what you have to offer.
Build your client emails list
You are probably tired of receiving junk in your mailbox. I do not blame you. I feel the same way. But hear this, there were 294 billion emails sent in 2019. By 2024t, this number will surpass $350 billion. Email marketing is the primary driver of customer retention and acquisition for small and midsize businesses. According to the data, 81% of SMBs still rely on email as their primary customer acquisition channel, and 80% for retention. Research findings from this study show that email marketing tops the chart in comparison to organic search, paid search, and social media when it comes to customers' acquisition & retention. I do not want to minimize the importance of Google and Facebook, but if you are looking for direct outreach, there is no competition with email marketing.
Accept digital payments
The coronavirus pandemic accelerated the long-term trend of digital payments growth. The Global Digital Payments Market was valued at $3.9 trillion in 2019. It is expected to reach $9,7 trillion by 2025, with an average annual growth of 13.7%. The virus pandemic forced consumers to be more aware of how they make payments.
How many times you order food at a restaurant, and they ask you to sign the receipt and write down the gratuity. How often do you need to touch the POS terminal when you make a purchase in the store?
Let us go one step further. Contactless payments will be the next wave of digital payments. NFC, QR codes, and digital wallets will be the predominant payment method. If your business is not offering digital payments, you will be at a significant disadvantage against your competition.
Be creative
Not all businesses can be digital. You can't get a haircut virtually. And you can't go to a virtual spa. Your closed cannot be tailored without going to the tailor shop. Desperate times require desperate and creative measures. How about becoming a mobile barber? Perhaps you can offer wellbeing classes online? In order to survive, you have to be innovative and resourceful. Tailors are making facial masks. Breweries are making hand sanitizers. The truth is no one knows your business better than you. And no one knows your customers better than you. Find a way to reach out to your customers in ways that make sense for them. Find creative ways to improve their life.
Cybersecurity
Unfortunately, digital growth is bringing bad actors looking to profit from people's fears. If you want to expand your digital business, you must invest in cybersecurity. You need to protect yourself and your client's information.
Final words
I am a financial advisor, not a digital marketing expert. But I am also a small business owner. I have been blogging and posting on social media since 2016. I have hired and let go of several marketing companies. The reality is that it is not easy to compete with large corporations with big marketing budgets. However, small business owners like us are the backbone of the global economy (not just in the US). We are resourceful, creative, and adaptable. We find ways to get things done and make our customers happy.